Are you pregnant, or had a baby recently? Are you interested in alternatives to disposable nappies?
If you already have a baby at home you'll have seen just how many disposable nappies you throw away. With anywhere between 4 and 10 nappy changes a day, that's quite a lot of space in your bin taken up by nappies and wet wipes. Some people also claim that reusable nappies can be better in regards to nappy rash and earlier potty training.
There is a huge market for reusable, and it continues to grow. The different types and brands all come with their own advantages and it can be quite overwhelming to know where to start, especially if you are a first time parent. There is no one size fits all as every baby is different.
The information on these pages will give you a good starting point and build your confidence in giving them a go. Do not feel like you have to use reusable nappies from day 1 and full-time. Every nappy makes a difference, so you can start whenever you feel comfortable and also start using them part-time at first, for example while you are at home or overnight.


Saving money
The financial cost may be a big factor for many. Whilst there is a higher initial cost to purchase washable nappies, you are still likely to save approx. £500 for the first child. If you are then to use them for other children, saving can be even greater.
The secondhand market for reusable nappies is growing and you can easily find them on Facebook Marketplace and other online platforms. Buying them second hand in the first place can save you money and reduce the environmental impact of nappies.
This also means that washable nappies keep their value well if you looked after them. You could get most of your money back if you sell them when you do not need them anymore.
Baby's health
Reusable nappies are often made from natural materials such as cotton or bamboo. There is some plastic in reusable nappies too to make them waterproof but as you are reusing them the environmental impact is lower and they do not directly touch your baby's bum. There is also anecdotal evidence that reusable nappies can be better in regards to nappy rash and earlier potty training.
Reduce your waste and the impact on the environment
There were just over 15,500 babies born in West London hospitals in 2014/15. The nappies for each one weigh around 1kg a day, so that is almost 5700 tonnes of waste sent for disposal each year, with a huge price tag of just under £700,000 each year until nappies aren't needed anymore. Not only will you as a parent spend a lot of money over the years buying those disposables, you willl be paying again, through your council tax, to dispose of them too.
Most disposable nappies contain plastics and certain chemicals to ensure your baby's bum stays dry and the nappy does not leak. Putting so many materials into nappies just to burn them or have them buried in the ground for up to 500 years before they break down doesn't seem like a good use of all the resources to make them. There are biodegradable nappies which tend to be plastic free, however there currently is no option to dispose of them separately and they still have to go into your general waste.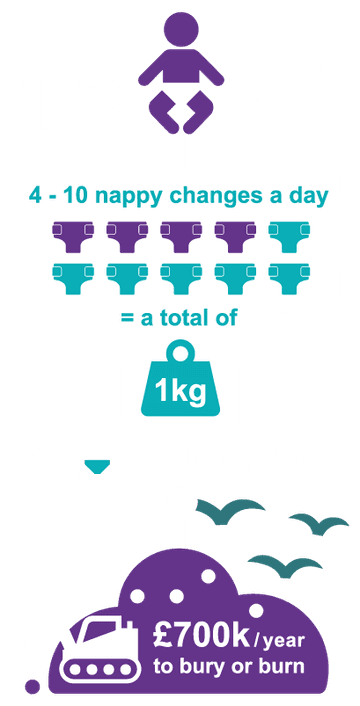 Where to Get Started
If these reasons have convinced you to give reusable nappies a go, find out more about how you can get started here. It includes a list of some of the nappies we have tried and tested. The list does not cover all the brands. There are always new, small, independent companies starting up, so browse the internet once you know what you want to look for.