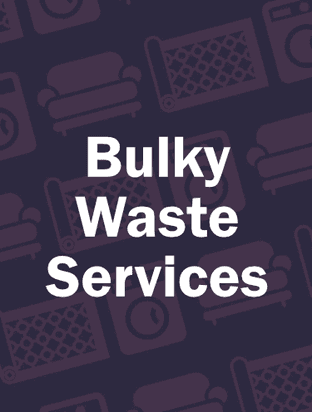 Bulky Waste Collection FAQs
Bulky Waste
Bulky Waste Collection FAQs
What is the Bulky Waste Service?
The Bulky Waste Collection service is for the removal of large unwanted household items that are too big to be removed by your normal household waste collection services
Who can use the Bulky Waste service?
All residents who currently live in the boroughs of Brent, Ealing, Harrow and Hounslow are eligible to make a booking and get unwanted bulky items collected from their homes.
Who is not allowed to use the service?
Residents not living in any of our six boroughs, registered businesses and landlords or property management companies are not currently eligible to use the service. We do not collect waste from business premises.
How much does a collection cost?
The price you pay is currently matched to your own borough's bulky waste collection service charge. The borough you live in will determine what your collection charge will be.
Who takes my payment?
AnyJunk Limited will manage the collection service on behalf of West London Waste Authority. They will also handle all payments, receipts, refunds and cancellations. Once you make a booking, please contact AnyJunk directly for any queries.
Am I able to get a discount for multiple collections?
We do not offer any discounts for multiple collections. We are also unable to offer any over 65's or Council Tax and Universal Credit related discounts. If you are eligible for a discount, then please book a collection with your council directly by clicking the appropriate borough logo above.
What collection days and times are available?
Collections are available 7 days a week and there is no limit to how many times you can use the service. Collection times will be in three time bands – morning, evening or anytime slots. Morning slots will run from 7.30am to 1pm, and evening slots will run from 1pm to 6pm. Choosing an anytime slot means your items will be collected anytime between 7.30am and 6pm on your chosen day.
Where will my items be collected from?
Your items will only be collected from the front boundary of your property. It must be easily accessible and as near to the public highway as possible. Collections from flats will only be from communal areas. We do not collect items from inside a property. If your council offers this option separately, please make a booking directly with them by clicking their logo.
Find out more about your own council's bulky waste collections
If you would like to use your own council's bulky waste collection service, then click on your borough's logo below and you will be directed to their page.