News
Plastic Free - How can I get started? Package Free Shopping
Published: 17th January 2022
Three years ago, I took part in a Plastic Free July Challenge in our office. Back then, I decided to avoid disposable coffee cups and plastic bottles for a month, and it was the beginning of a journey. I was always aware of the environmental impact of plastics but learning even more throughout that month encouraged me to take action in my personal life. Looking into some alternatives, I realised how easy and affordable some of the swaps were. Here are some of my favourites, and maybe you find something that works for you.
My Bathroom Swaps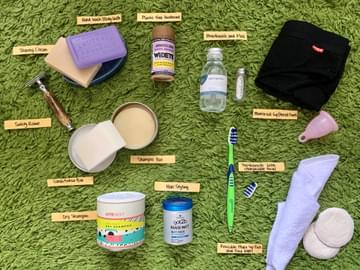 Soap bars are readily available and very affordable. They also last a lot longer than products in plastic bottles. You can replace shampoo, body wash, scrubs, face cleanser and even shaving cream with solid soap bars! As I did not get on bamboo toothbrushes, I had to look into alternatives and discovered this one with replaceable heads and a handle made from recycled plastic. I have been using it for about two years! Sometimes it is about finding a more environmentally friendly product that works for you even if it is not 100% plastic-free. Reuse is always a great option as it puts resources to great use.
My Kitchen Swaps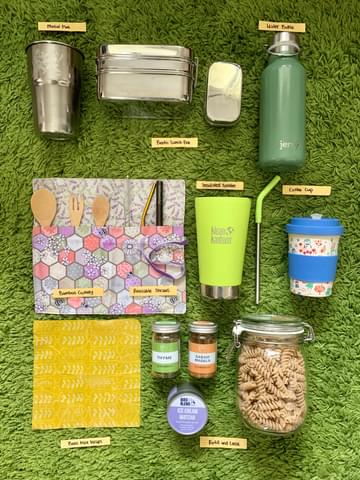 If you are currently using a reusable plastic lunch box, do not just throw it out. Use it until it needs replacing and then look into a more sustainable option. I went for this three-in-one metal lunch box. More and more great products are coming onto the market. One example are collapsible reusables such as coffee cups and water bottles. They are more space-efficient and make it easier to carry. Two items I struggled when I first took part in Plastic Free July were fizzy drink bottles and iced coffees. I have since discovered great recipes to make drinks like fruit spritzers and iced teas at home. I also came across this insulated tumbler, which is excellent and suitable for hot and cold beverages. Always keep your eyes peeled for alternatives to plastic and try to think outside the box! You might even find some good options in your local supermarket like these glass spice jars with aluminium lids. I am planning on reusing mine at the bulk shop.
Some other useful things I came across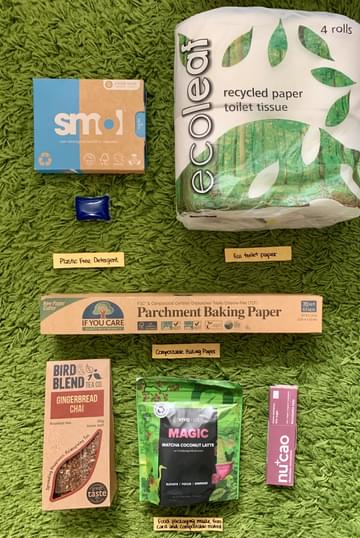 Sometimes you might not be able to find something completely plastic or package-free, but there has been a lot of innovation. So always have a closer look at the packaging, it might be home compostable and plant-based which makes it a better choice compared to fossil fuel based plastic even if you do not have a compost bin.
Top Tips
Make the most of what you have. If you have plastic boxes at home, do not bin them. Reuse them until they need replacing and then opt for a more environmentally friendly option.
The initial costs of reusable items might be high but consider how much you would use of the disposable counterpart, for example, face wipes or soap bars. The difference might not be that big after all!
Do not force it! If a product does not work for you, look into different options and find a more sustainable product that does. Every little helps and no point purchasing something that you are not going to use!
Where to buy?
Health food shops, local farmers markets or supermarkets, for example Holland & Barrett, Whole Foods in Richmond, The Refill Larder in Teddington, As Nature Intended in Ealing and The Source Bulk Food in Chiswick.
Online shops, including the online shops of specific companies or shops that are specialised in more sustainable products. Here some examples:
General
Food
Household
Cosmetics, Health & Beauty
Reusables
Blog post written by Christin Kowalke
Meterials related to this Event