Home
News and Events
News
West London residents increased the amount of dry recycling by 15% and food waste recycling by 6% since the Coronavirus lockdown
News
West London residents increased the amount of dry recycling by 15% and food waste recycling by 6% since the Coronavirus lockdown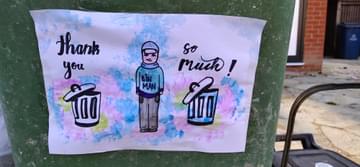 With more residents staying at home since the 23rd of March, more people are making full use of their Council kerbside recycling collection services across London Boroughs of Brent, Ealing, Harrow, Hillingdon, Hounslow, and Richmond upon Thames.
The increase in food waste recycling has been helped by the recent #UseYourCaddy campaign where each of the six west London boroughs offered residents free start-up food waste recycling containers and liners for a limited time.
It is important to recycle food waste as much as possible as it makes up approximately 40% of unrecycled 'residual' waste across West London. Once people start separating their food waste for recycling, they realise how much they are throwing away, and they waste less food going forwards. This is a win-win situation for everyone as it helps households to reduce the costs of grocery bills, and it also reduces the cost of processing and running the collection services.
West London residents are continuously doing a fabulous job of placing the right items in the correct recycling bins. This makes the job smoother for the front-line essential workers who operate the waste and recycling services and are working extremely hard to keep services running through this challenging period.
Meterials related to this Event