Nappies
Getting Started
Seize the day now, get everything ready to use in the morning! The nappies come to you ready for use. We've pre-washed all the nappies at least 6 times to get them to maximum absorbency and if you're not the first person to use this pack we've also washed it before you borrowed it. If you want to wash it before use, please do, making sure you follow our washing instructions – washable nappies come with guarantees so if a fault develops they can be returned but only if the washing guidelines have been followed.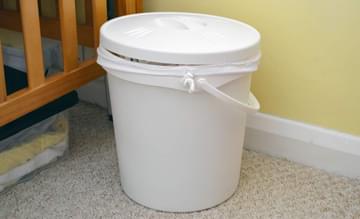 Set up the bucket – line the bucket with the mesh washing bag and put it near where you usually change nappies. If you have another changing area you could use the zipped wet bag from the pack or another container there too.
We've added boosters and liners to each nappy. If you know your baby's disposable nappies are usually very heavy then you may need to add extra boosters. How many boosters to add to a nappy is something you'll work out after a few uses of each nappy – one of the many great things about washable nappies is that they're really flexible.
So you're now sat with 9 nappies, which one to use first? Here are a few ideas.
Great for Child Care - Either of the all in one nappies (bumGenius Elemental, MioSolo or Close Pop-In) would work well at a nursery or with a childminder because they are the most similar to disposables and with lots of children to look after they might not want to use anything else. However, if they've used washable nappies before they might be open to trying any of the others too – ask them and see what they say!
Night Nappies - Try the Little Lamb bamboo nappy or Tots Bots Bamboozle with the Little Lamb trifold booster plus another booster with either the Little Lamb wrap or Motherease Airflow wrap. This combination should get you through the night with no problems.
Alternatively, just pick the one that works best with the outfit you've chosen or has the best pattern and continue from there!